I'll admit, this is a little later than I usually post, but I just couldn't miss wishing you all a very happy weekend!
Here are a couple of things that made me smile today.
This Project
Was Featured Here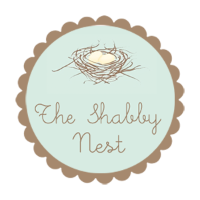 And Here!

I was beaming from ear to ear when I stopped by these two amazing blogs and spotted my DIY shower curtain front and center!  I want to take a minute to thank these lovely ladies for the feature and for being so inspiring.  If you're looking for eye candy this weekend, be sure to check them out!
Another thing that made me smile?  Coming across these photos of our puppy Molly the day we brought her home.
Based on these photos, it looks like she took lots of naps that first day!  Molly is turning 4 years old on St. Patty's Day – I can't believe my little girl is growing up! 🙂
The last thing that is really making me look forward to the weekend?  Planning a new project!
Anybody want to guess what we're doing tomorrow?
Hope you have a great one – and DIY something for me this weekend, k?  🙂