Today I have some thank yous and upcoming projects to share.  We'll save the projects till the end (cause mama likes the suspense!), so let's start with the gratitude!
We have been blown away by the attention our budget bathroom makeover received this week, and I'd like to especially thank Kim at Savvy Southern Style for featuring us in her Wow Us Wednesdays roundup.
Next up, one of my absolute favorite bloggers, Lindsey of Better After, wrote a great post on our loo on Monday called "Flush Crush" (tee-hee).  I have a feeling lots of you found us via Lindsey's blog this week, and I am so grateful to her for the feature!  If you haven't checked out Better After, I'd highly recommend it – I mean come on, who doesn't LOVE instant Before & After gratification?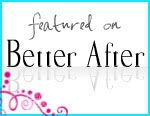 Michelle's blog Thrifty 101 is a great resource for money saving tips, coupons, DIY projects and giveaways.  I liked up to her Thrifty Thursday party and whadda ya know? She picked our bathroom as one of her favorite projects of the week.  Thanks Michelle!
When Jena from Involving*Color wrote to me, asking if she could add some photos from our House Tour to her inspiration galleries, I was more than happy to say YES!  The Galleries on her blog are so well organized – just pick a room and pick a color.  They make visualizing color in your space so much easier.
Anne at WobiSobi announced the winner of this beautiful ring last week, and I was so excited to hear I'd won!  It's hard for me to find rings that fit my short little fingers, and this one actually looks good on my hand. 🙂  Thank you so much Anne!
WobiSobi is growing by leaps and bounds and is full of daily DIY fashion accessories and outfits that reflect Anne's amazing sense of style.  You will be blown away by her creativity.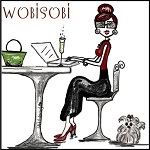 It's my Canadian blogging friend Krista's birthday today.  She and her man Dave have entered a contest to win a closet makeover from their local mall in Canada, and from the sound of things their new master closet is in need of some major love.  Wouldn't it be a great birthday present to Krista if we all voted for her?  Click the button below to vote for them – contest runs until April 17!
On the subject of voting, I wanted to make sure we thanked YOU for voting for our closet and bathroom makeovers at The Designer in You Contest hosted by MSN.  If you haven't voted yet and like what you see in our home, I'd appreciate your vote by clicking the links above and hitting the Thumbs Up button.  Thank you!!
Finally, Alana from Taylor Made Home wrote up the sweetest feature on our blog today. She just started her blog in February and it is lovely.  What other bloggers do you know whose first post includes a mission statement?  Click here to read hers.  Thanks so much for the feature Alana, and best wishes for continued blogging success!
Update:  Just seconds after I posted this, I got a lovely comment from Rachel at Bubbly Nature Creations.  She had the nicest things to say about our bathroom makeover, and had to let me know she featured it today on her blog.  Thanks so much Rachel!
If you're looking for some new blogs to browse this weekend, I'd encourage you to check out any of these great sites.  Disclaimer: Make sure you have a comfy seat and plenty of snacks because you could spend hours being inspired by these awesome ladies!
~~~~~~~
And now for the fun part – upcoming projects!  This winter I started stocking up on furniture odds and ends, and since the warmer weather has finally arrived, it's time to break out the spray paint and give this junk some love.  Cause I know we all love seeing messes in other bloggers' homes, here's my stash in our garage. (You're welcome. 🙂 )
First project: Finally finishing painting these doors and drawers from our guest bathroom vanity.  You wouldn't believe me if I told you how long these have been waiting in our garage…
Here's a beautiful vanity I purchased from a local antique mall.  It has some veneer issues going on, but after a little glue and sanding, this lil girl is going to look amazing!
After 3 years, I think it's time to part ways with our old dining room chandelier.  I keep telling myself I'll give it a makeover or put it in the attic (to re-install it when we move), but it may be time to give it up and see if a local Craigslister will take it off our hands.
I'm really excited to see this vintage dresser come to life.  I found this piece on Craigslist and picked it up in an old man's barn this winter.  Needless to say, step 1 will be removing cobwebs.
Now this is a project that I could use your help with.  I'm trying to think of something creative to do with this drawer we removed from a dresser (to convert it to our entertainment center).  I don't really want to damage the drawer in any way because we may use it in the dresser later down the line.  What would you do with it?  Make it into a shelf?  Use it for storage?  Just stick it under your bed? 🙂
We also have a collection of chairs awaiting makeovers.  The white and leather chair below originally went with the desk I painted for the craft room.  I started painting the chair but then decided to use this one instead.  This chair really needs some love or a new home.
The pair of chairs stacked beside it will be awesome with new paint and upholstery.  I got this pair for $15 from a lady (again on Craigslist), and I'd really like to find a little table with similar lines to use with them.
Finally, I have this amazing old school desk I found at a thrift store.  I was so lucky to snatch it up on 75% off green tag day, and I think it will be so cute with a little TLC!
I'd love to hear if you have any suggestions on what we should do with these furniture pieces.  Any paint colors or DIY ideas jump to mind?  Any thoughts on what we could do with that green drawer?
We really appreciate you stopping by today.  Thanks for reading and have a wonderful weekend!